Below are some resources that I think are helpful for BIO 192 students . If you have any questions come to an SI session or leave a comment below. You can also upload any of your helpful resources in the comment section!
My Session Schedule, Winter 2016
[box]Monday 6-7pm, Richardson Library 109
Wednesday 1-2pm, Richardson Library 105
Office Hour – Tuesday 1-2pm, Richardson Library 111 (The Learning Commons) [/box]
Can't attend any of my sessions? Check out other BIO 192 SI leaders' schedules here.
Welcome to my BIO 192 Blog!

About Me
I'm Thomas. I'm a Junior Biological Sciences major with a concentration in Ecology and Evolution. I work with Dr. Aguirre in his lab at DePaul to study the temperature effects on the development of vertebrae and body shape in the tetra Astyanax mexicanus. I enjoy science, camping, music, art, and oxford commas.
Study Tips
Make a schedule: Time is often the greatest limiting factor for students when studying for a big test. If you manage your time effectively, you won't have to cram when a test comes around. Think of the big picture and then ask yourself, "How do I start preparing now?" Get a planner and designate a couple of hours each day to studying for each class. Planning ahead eliminates stress and builds confidence.
Form a study group: Meeting with a group of peers for a collaborative study session is an opportunity to ask questions and practice explaining concepts to others. You should not rely on other people in the group to explain everything to you. If you study ahead of time, you will build your confidence and realize what do you know and what you need to review. Remember the learning pyramid: people retain 90% of what they teach to others.
Got to the library: Nothing is better than the comfort of your own home. That is why you should go to the library when you need to study. Libraries are designed for getting in the zone. Find a table on your favorite floor, crack your book open, and before you know it, three hours have passed and your study goals are accomplished!
Take notes in lecture: This is essential. If you don't take notes, you will forget the lecture material. Try using the Cornell Note Taking System to engage yourself in lecture. Find the note taking strategy that works the best for you.
Read the book: Readings are assigned for a reason! Sure, everything from the reading might not be on the test, but the book presents material in different ways than lecture. The book will supply you with unique examples of concepts and ways of thinking that will reinforce your understanding of the material.
Attend SI sessions: SI sessions are an opportunity for you to collaborate with other students to enhance your understanding of the course material. In biology, I find that I often need to approach a concept in many different ways as possible to master it. Reading, attending lecture, and working in lab are all great ways of learning a concept. It is my goal as an SI leader to facilitate study sessions where you are able to reinforce your knowledge of the course material and improve your academic performance.
 Never underestimate yourself: You ultimately decide how far you will go to master the material. If you have doubts about your competence, all you need to do to change your mindset is practice more! If you devote the time needed to succeed in a course, you will do well.
Relax: You probably have several courses that you are taking, a job, and a life outside of that. If you plan out your time well, you will have time to relax and relieve your stress. This is essential to maintaining your stamina throughout the quarter.
Videos and Handouts:
Natural Selection
Below is a PhET simulation for natural selection from the University of Colorado Boulder. In this simulation you can control variables of the environment, selection factors, and mutations for a population of bunnies! Sound fun? Check out other simulations from PhET for your other science courses.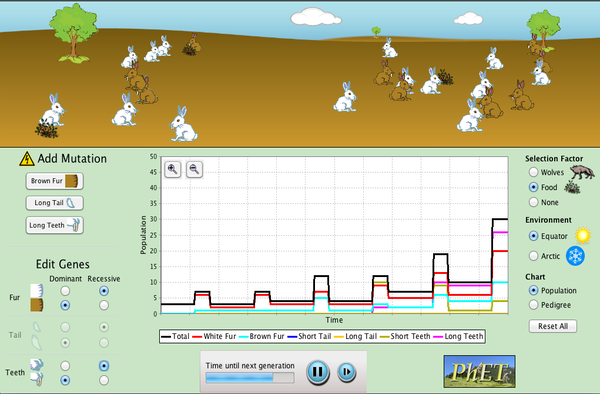 Hardy-Weinberg Equilibrium 
This video from Bozeman Science explains Hardy-Weinberg equilibrium and how to solve a Hardy-Weinberg problem. In this video you will learn what all those p's and q's mean and how to solve for them! This will be on your test!
Practice problems!! DO THESE.

Answers to Hardy-Weinberg
Genetic Drift vs Natural Selection
Complete this incomplete outline to better understand the differences between Natural Selection and Genetic Drift!

This video covers the basics of genetic drift, natural selection, Hardy Weinberg Equilibrium, and a few other concepts from population genetics. 
Exam 1 Study Outline
Intersexual Selection:
Intrasexual Selection:
Phylogenetic Tree Worksheet
Statistics Worksheet
Life Table and Population Growth Worksheet
Some bonus review packets from my fellow SI leader, Deena Kishawi:
Deena's Exam II practice test:
Answers to practice test:
Deena's Hardy-Weinberg practice:
Answers to Hardy-Weinberg practice:
Deena's Exam II incomplete outline:
Community Ecology and Ecosystem Ecology worksheet + incomplete outline:
Contact Thomas:
Email: tlborders94@gmail.com.